Collection: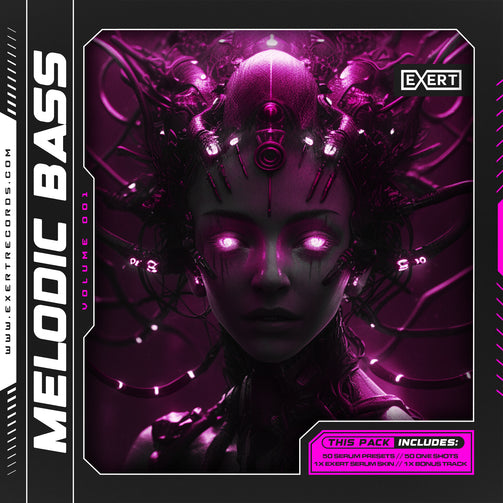 Collection:
Exert Records - Melodic Bass Vol.1
Exert Records - Melodic Bass Vol.1
Regular price

Sale price

€15,00
Tax included.
Introducing Melodic Bass, a captivating collection of Serum presets designed to transport your music to new heights. This immersive preset bank for Xfer Serum is more than just a sound library; it's a boundless source of inspiration that will empower you with your ultimate starting point for anything melodic.

With a fusion of iconic sounds and the most diverse selection of melodic jump-up bass presets on the market, Melodic Bass promises to elevate your music production to the next level. It's not limited to one genre; this pack is versatile and caters to a wide spectrum of styles, making it your go-to choice when you need a hard-hitting, emotive melody that resonates with your audience.

Our comprehensive preset library is meticulously crafted to inject life and feeling into your compositions. Each sound comes with a WAV loop meticulously created in various keys. This thoughtful inclusion ensures that you're equipped with a plethora of musical ideas to kickstart your creative process.

When you purchase this library, you'll also receive an exclusive demo track in the popular melodic jump-up style. It's a valuable resource that showcases the potential of these presets and serves as a creative template to ignite your own musical visions.

As a special bonus, you'll even be treated to an exclusive Exert Serum skin. Each pack comes with a unique design, tailored to the essence of Melodic Bass. These skins will not only enhance your visual experience but also immerse you in the sonic atmosphere, making your music production journey even more enjoyable and inspiring.

Pack Contents:

50x Bass Presets for Serum
50x Bass Loops in WAV format
1x Bonus Track (Never to be released)
1x Limited Edition Serum Skin
Listen to the bonus track & sounds preview below.