Collection: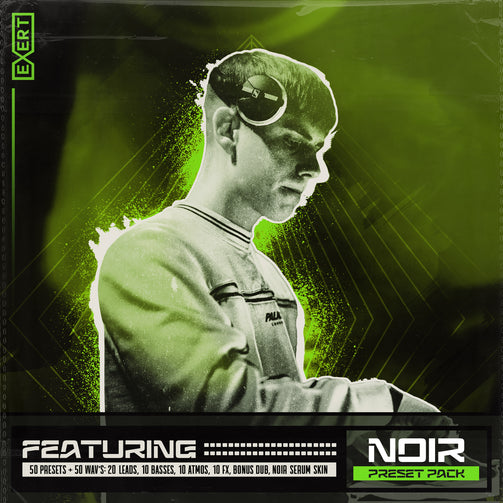 Collection:
Noir - 50 Serum Presets
Noir - 50 Serum Presets
Regular price

Sale price

€20,00
Tax included.
Are you ready to embark on a sonic journey into the depths of modern-day jump up? Look no further than Noir's 50 Serum Presets, meticulously crafted to deliver the signature Noir sound right at your fingertips. With this preset pack, you hold the power to reverse engineer and create your own unique sounds, filled with dark tones and captivating melodies.

Featuring a diverse range of 50 expertly designed presets, Noir's collection ensures you have all the essential tools to craft your jump up soundscapes. Dive into a world of auditory exploration with the 20 leads, ready to soar above your tracks and add that unmistakable touch of noir elegance. These sounds will propel your compositions into uncharted territories, pushing the boundaries of conventional music.

The bass presets in this pack will shake the very foundations of your sound, providing 10 rumbling, earth-shaking basslines that will give your tracks the power and drive they need. Each bass preset has been crafted with care to deliver a unique character, ensuring your productions stand out from the crowd.

To add depth and atmosphere to your compositions, Noir's 50 Serum Presets also offer 10 expertly designed atmospheric presets. Immerse your listeners in hauntingly beautiful sonic landscapes, creating a mesmerizing backdrop for your tracks. Transport your audience to new dimensions!

This pack also includes 10 FX presets. These effects will add that extra touch of magic to your tracks, elevating them to new heights of sonic experimentation. From ethereal textures to glitchy transformations, these FX presets will inspire you to push the boundaries of sound design.

As a special bonus, we've included 50 one-shot WAV's of all presets, the full-length demo track which will never be released & your very own custom Noir serum skin!

Pack Contents:

Presets for Serum:

20x Leads
10x Bass
10x Atmos
10x FX

Bonus:


50x One Shots in WAV format

1x Bonus Track (Never to be released)

1x Limited Edition Noir Serum Skin


Listen to the bonus track & sounds preview below.